Vidya Samiksha Kendras: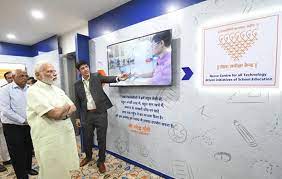 Under the National Digital Education Architecture (NDEAR), the Ministry of Education is pushing the establishment of Vidya Samiksha Kendras (VSKs) across states.
This initiative aligns with the National Education Policy, 2020.
Currently, at the Central level, a VSK centre is housed in the Central Institute of Educational Technology building in the National Council for Educational Research and Training (NCERT) campus .
Vidya Samiksha Kendras (VSKs) is aimed at leveraging data and technology to bring a big leap in learning outcomes.
This will cover data of more than 15 Lakh schools, 96 Lakh teachers and 26 Crore students and analyze them meaningfully using big data analysis, Artificial Intelligence (AI) and machine learning in order to enhance the overall monitoring of the education system and thereby improving learning outcomes.
Objectives:

To monitor the real-time status of various projects/ activities under the ambit of Samagra Shiksha.
To keep track of enrolled students including learning outcomes, Dropouts, support required by teachers and schools, etc.
To monitor and track field level academic and non-academic activities at state level and also empower administrators and teachers in the field to take data driven decisions.
To set up a centralized help desk for grievance redressal mechanisms for stakeholders of the School ecosystem.
To identify and analyse improvement areas for decision making and implementation that needs urgent attention.