AG-365S Kisan Drone: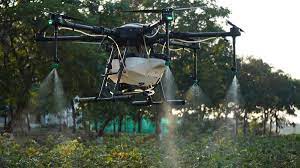 Marut Drones recently secured type certification approvals from the Director General of Civil Aviation (DGCA) for its AG-365S kisan drone for use in agriculture
Under the Unmanned Aircraft System (UAS) Rules-2021, drones equipped with a Unique Identification Number (UIN) are permitted to operate in Indian airspace.
By obtaining this certification, Marut Drones is now able to offer its agricultural drone technology to farmers across the country.
AG 365S is a multi-utility agricultural drone in the small category (less than 25kg).
It has been designed and developed by Marut Drones; an Indian drone technology company based in Hyderabad.
The made-in-India kisan drone – AG 365 has been developed particularly for agricultural purposes to reduce crop loss, lower agrochemical usage, and better yield and profits to the farmers.
It is the first multi-utility agriculture small-category drone to receive the DGCA-approved type certificate in India.
The AG-365S drone has the highest endurance of 22 minutes.
It is equipped with advanced obstacle and terrain sensors, which enables safe and smooth operations even in rough and patchy terrains.
It is equipped with multiple payloads, and one AG-365S can be used for spraying pesticides, granular spreaders and also for running RPTO drone training academies.