LEED Certification: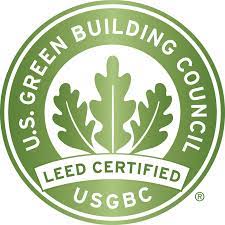 According to the Green Business Certification Inc. India ranks first globally in LEED Zero-certified green building projects surpassing the US and China.
LEED Certification:
Leadership in Energy and Environmental Design is the world's most widely used green building rating system in the world.
It is available for virtually all building types.
This certification provides a framework for healthy, highly efficient, and cost-saving green buildings, which offer environmental, social and governance benefits.
It is a globally recognized symbol of sustainability achievement and leadership.
To achieve LEED certification, a project earns points by adhering to prerequisites and credits that address carbon, energy, water, waste, transportation, materials, health and indoor environmental quality.
Projects go through a verification and review process by GBCI and are awarded points that correspond to a level of LEED certification: Certified (40-49 points), Silver (50-59 points), Gold (60-79 points) and Platinum (80+ points).
This rating system is developed by the United States Green Building Council (USGBC).