Agni Prime: New Generation Ballistic Missile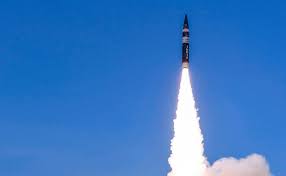 The Agni Prime new generation ballistic missile was successfully test fired off the coast of Odisha.
The 'Agni Prime' is a two-stage canisterised solid-propellant missile with dual redundant navigation and guidance system.
The nuclear-capable missile has been designed and developed by the Defence Research and Development Organisation (DRDO).
The surface-to-surface ballistic missile has a range of 1000 to 2000 km.
The Agni Prime missile, the smallest and lightest among the entire Agni series of ballistic missiles.
It weighs 50 per cent less than the Agni 3 missile and has new guidance and propulsion systems.
In addition, since it is canisterised, it can be launched from rail or road, be stored for longer periods and can be transported as per operational requirements.