Amogha-III : Anti Tank Guided Missile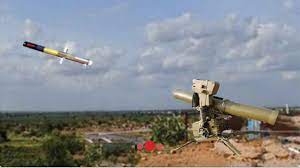 The indigenous Anti Tank Guided Missile, Amogha-III tests were announced as successful.
Amogha-III is an indigenous missile.
It is developed under the Integrated Guided Missile Development Programme (IGMDP).
It has a fire-and-forget capability.
Fire-and-forget capability means it does not require external intervention after launch.
The missile features dual-mode Imaging Infra-Red (IIR) Seeker systems with a range of 200 to 2500 meters.
It showcases a tandem warhead, consisting of two separate explosive charges that are detonated in sequence.
The first charge, known as the precursor charge, penetrates the target's armour, creating a hole.
The second charge or the main charge then detonates inside, maximizing damage inflicted on the target.
One of the unique features of the missile is it has both top and direct attack modes.