Lokpal: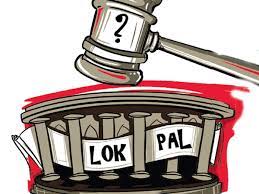 Lokpal's office recently informed that Around 68% of corruption complaints against public functionaries that landed with the Lokpal were "disposed off" without any action in the past four years.
The Lokpal is a statutory body established under the Lokpal and Lokayuktas Act 2013.
The Lokpal will consist of a chairperson and a maximum of eight members.
Chairperson should be either the former Chief Justice of India Or the former Judge of the Supreme Court, or an eminent person who fulfils eligibility criteria as specified.
Out of the maximum eight members, half will be judicial members. The judicial member of the Lokpal should be either a former Judge of the Supreme Court or a former Chief Justice of a High Court.
Minimum fifty per cent of the Members will be from SC / ST / OBC / Minorities and women.
It has jurisdiction to inquire into allegations of corruption against anyone who is or has been Prime Minister, or a Minister in the Union government, or a Member of Parliament, as well as officials of the Union Government under Groups A, B, C and D.