Amrit Bharat Station Scheme : 15 Railway Stations Selected To Be Developed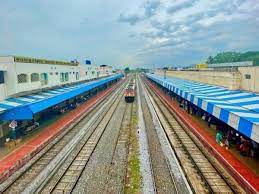 Recently, 15 railway stations under Tiruchi Division Railway Division were selected to be developed under the Amrit Bharat Station Scheme.
The Union Ministry of Railways launched Amrit Bharat Station Scheme in December 2022 to modernize over 1,000 small stations over the coming years.
The scheme will subsume all previous redevelopment projects where work is yet to begin.
Key features for these proposed stations:

provisions for roof top plazas,
longer platforms,
ballastless tracks; and
5G connectivity.