Banking On World Heritage : India To Host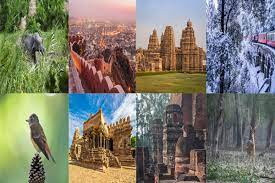 India is hosting the "Banking on World Heritage" exhibition, showcasing currency notes from G-20 countries featuring UNESCO world heritage sites.
The exhibition, held at the Indira Gandhi National Centre for Arts, highlights the cultural significance of currency.
It features Indian currency notes, including the ₹10 note with the Sun Temple, the ₹20 note with the Ellora caves, the ₹500 note with the Red Fort, and two ₹100 notes depicting the Kanchenjunga mountains and Gujarat's "Rani Ki Vav" stepwell.
The event emphasizes that each currency note carries a country's cultural heritage.
The G-20 comprises 19 countries and the European Union, with each member featuring their UNESCO world heritage sites on their currency notes.