Projects For the development of Railway Infrastructure In West Bengal: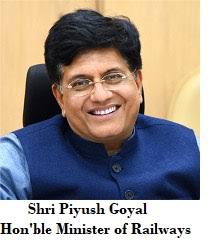 Union Minister of Railways, dedicated to the Nation series of Projects for the development of Railway Infrastructure in West Bengal.
He inaugurated 2nd Foot Over Bridge at Santragachi, Freight Terminal at Sankrail (Phase-I) & Vivekananda Meditation Centre at Howrah and dedicated to the Nation an Executive Lounge at Sealdah station, 2 Escalators at Sealdah station and 2 lifts at Sealdah station.
Santragachi station is one of the busiest stations in the Howrah-Kharagpur section.
It is being developed with all modern amenities.
Sankrail Freight Terminal (Phase-I) has been developed with modern facilities for freight rake handling.
This Freight Terminal will serve around 40 sq. km. industrial belt spreading over Kolkata and Howrah in West Bengal.
Executive Lounge at Sealdah Station is another novel initiative of Railways to provide more comfort for passengers.
In order to augment the security of passengers & railway property, an Integrated Security System has been commissioned at Barddhaman station.