Governor's Address: Controversy In West Bengal And Telangana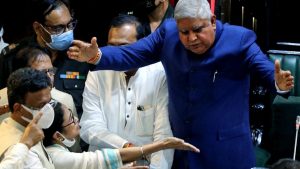 The customary governor's address on the opening day of the budget session of a state assembly was mired in controversy recently in West Bengal and Telangana.
The governor of West Bengal, Jagdeep Dhankhar, was unable to deliver his address at the Vidhan Sabha on the first day of the budget session, amid sloganeering, chaos and protests.
In Telangana, the budget session of the state assembly commenced without the customary governor's address, and the incumbent, Tamilisai Soundararajan, expressed discontent over the state government's decision to not have the governor's address at the beginning of the session.
Governor's Address:
Article 176(1) of the Constitution of India enjoins that the Governor shall Address both the Houses assembled together at the commencement of the first Session after each general election to the Assembly and at the commencement of the first session of each year and inform the Legislature of the causes of its Summons.
The Address of the Governor contains a review of the activities and Achievements of the Government during the previous year and their policy with regard to important internal problems as well as a brief account of the programme of Government Business for the session.