Shauryanjali Programme: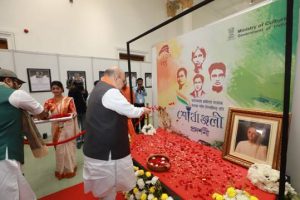 The Union Home Minister attended the 'Shauryanjali' program, organized to commemorate the 125th birth anniversary of Netaji Subhash Chandra Bose.
He also flagged off a cycle rally.
Three teams, namely Netaji Subhash Chandra Bose, Rasbehari Bose, and Khudiram Bose, are participating in the rally which will create awareness in different parts of West Bengal about the great sacrifices made by the revolutionaries of Bengal in the freedom movement.
Rash Behari Bose:
Rash Behari Bose (1886 – 1945) was an Indian revolutionary leader against the British Raj.
He was born in West Bengal.
Following the attempt to assassinate Lord Hardinge on 23 December 1912 in Delhi, Rash Behari was forced to go into hiding.
He was one of the key organizers of the Ghadar Mutiny, and later the Indian National Army.
Rash Behari Bose handed over Indian National Army to Subhas Chandra Bose.