Artemis I Mission: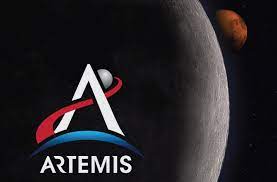 National Aeronautics and Space Administration (NASA) is about to launch its Artemis Program.
Artemis I is an uncrewed mission of NASA.
It will test the agency's Space Launch System (SLS) rocket and Orion crew capsule.
Artemis I will be the first in a series of increasingly complex missions to build a long-term human presence at the Moon for decades to come.
The primary goals for Artemis I are to demonstrate Orion's systems in a spaceflight environment and ensure a safe re-entry, descent, splashdown, and recovery prior to the first flight with crew on Artemis II.
Artemis I launch :The SLS rocket and Orion spacecraft have completed their journey from their assembly building to Launch Complex 39B at the Kennedy Space Centre in Florida.
At launch, the rocket will produce a maximum of more than 3.9 million kilograms of thrust from its four RS-25 engines and five-segment boosters.
Shortly after launch, the boosters, service module and launch abort systems will be offloaded.
Then, the core stage engines will be shut down and the core stage will separate from the spacecraft.