LVM3 : ISRO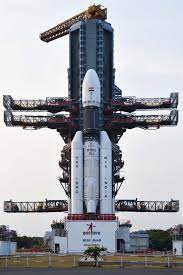 The Indian space agency, ISRO, has announced that it will launch its largest rocket, LVM3, on March 26th for its second commercial mission.
The upcoming mission will be carried out through ISRO's commercial arm NSIL (NewSpace India Limited).
It will carry 36 OneWeb Gen-1 satellites with a total mass of 5,805 kg, into a 450 km circular Low Earth Orbit with an inclination of 87.4°.
LVM3 Rocket Design is a three-stage vehicle.
It has two S200 solid motors as the first stage, L110 twin liquid engines as the second stage and a final C25 cryogenic upper stage.
This 43.5 m tall vehicle has a lift-off mass of 643 tonnes.
Its cryogenic stage is uniquely designed to orient and re-orient in orthogonal direction to meet the customer requirements of injecting satellites precisely and with a gap to avoid a collision.