ASEAN Meet: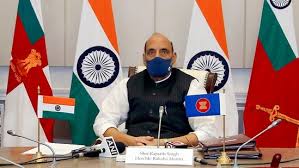 China has announced USD 1.5 billion development assistance for the ASEAN besides the elevation of the ties to a comprehensive strategic partnership to strengthen security cooperation with the 10-nation bloc, amid the US push into the resource rich Indo-Pacific.
Xi made the remarks at the Association of Southeast Asian Nations (ASEAN)-China Special Summit to commemorate the 30th Anniversary of ASEAN-China Dialogue Relations.
He also said China would never seek hegemony nor take advantage of its size to coerce smaller countries, and would work with Asean to eliminate "interference".
The Association of Southeast Asian Nations is a regional organization which was established to promote political and social stability amid rising tensions among the Asia-Pacific's post-colonial states.
The motto of ASEAN is "One Vision, One Identity, One Community".
ASEAN Secretariat – Indonesia, Jakarta.
Established in 1967 with the signing of the ASEAN Declaration (Bangkok Declaration) by its founding fathers.
Founding Fathers of ASEAN are: Indonesia, Malaysia, Philippines, Singapore and Thailand.
Ten Members: Brunei, Cambodia, Indonesia, Laos, Malaysia, Myanmar, the Philippines, Singapore, Thailand, and Vietnam.