Ramon Magsaysay Award: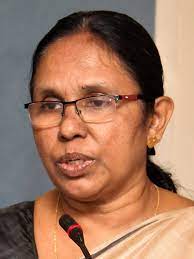 Former Kerala Health Minister and Communist Party of India (Marxist) [CPI(M)] central committee member K.K. Shailaja, MLA, has declined the Ramon Magsaysay Award Foundation's offer to consider her for the international honour in 2022.
The foundation wanted to honour her for the public service and community leadership during the Nipah outbreak and COVID-19 pandemic in Kerala.
However, Ms. Shailaja felt she could not accept the offer extended to her as an individual since the effort was collective.
The Ramon Magsaysay Award, widely considered to be Asia's equivalent to the Nobel Prize, recognises outstanding leadership and communitarian contributions in Asia.
The prize was established in April 1957 by the trustees of the Rockefeller Brothers Fund based in New York City with the concurrence of the Philippine government.
The Ramon Magsaysay Award is presented in formal ceremonies in Manila, Philippines on August 31st, the birth anniversary of the much-esteemed Philippine President whose ideals inspired the Award's creation in 1957.
From 1958 to 2008, the Award was given in six categories annually: (1) Government Service, (2) Public Service, (3) Community Leadership, (4) Journalism, Literature, and Creative Communication Arts, (5) Peace and International Understanding and (6)
Starting in 2009, the Ramon Magsaysay Award is no longer being given in fixed Award categories, except for Emergent Leadership.
Prominent Indians who have won the award include Vinoba Bhave in 1958, Mother Teresa in 1962, Kamaladevi Chattopadhyay in 1966, Satyajit Ray in 1967, Mahasweta Devi in 1997.
In recent years, Arvind Kejriwal (2006), Anshu Gupta of Goonj (2015), human rights activist Bezwada Wilson (2016), and journalist Ravish Kumar (2019) have won the award.