Asteroid Dinkinesh: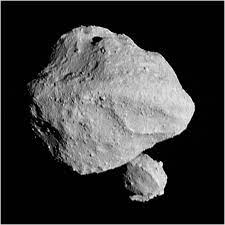 NASA's Lucy spacecraft, on a mission to observe Jupiter's Trojan asteroids, recently made an unexpected discovery.
It found that the main belt asteroid Dinkinesh, which it was set to fly by, is actually a binary system of two asteroids bound together.
Preliminary analysis suggests that the larger asteroid is about 790 meters wide, while the smaller one is approximately 220 meters in size.
An asteroid is a rocky, metallic, or icy minor planet that orbits within the inner Solar System.
Asteroids are smaller than planets but larger than meteoroids. They can range in size from 1-meter rocks to a dwarf planet almost 1000 km in diameter.
Asteroids are remnants left over from the early formation of our solar system about 4.6 billion years ago.
Most of them can be found orbiting our Sun between Mars and Jupiter within the main asteroid belt.
Asteroids are also known as minor planets or planetoids.
The larger forms of asteroids are also known as planetoids.