Lok Manthan Programme In Guwahati: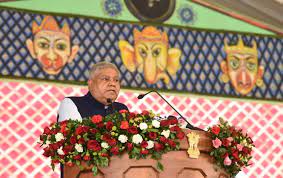 Vice President, Jagdeep Dhankhar, inaugurated the third edition of the Lok Manthan programme in Guwahati.
The theme of this year's biennale is Lokparampara (Lok traditions) – and how lok traditions have kept our cultural consciousness intact and strengthened our feeling of National Selfhood.
Lokmanthan is an event where artists, intellectuals, and academicians are drawn from different parts of the country converge and brainstorm on the questions that haunt the society.
Besides, the three-day event will have discussions, seminars, cultural events and exhibitions which showcase the rich diversity of the nation.