Astro Robot: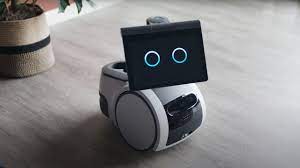 Amazon has unveiled its 'Astro' home robot, which is designed to help customers with a range of tasks like home monitoring and keeping in touch with family.
However, civil society has highlighted the concerns of privacy issues of 24×7 surveillance.
About Astro Robot:
Astro is primed to be a home security device. It is designed to move around the home and keep a check on pets, and detect something unusual in the absence of the owner.
It comes with a "periscope" camera that pops up from its head and can be used to keep an eye on the home.
It is basically a combination of the Echo Show (smart speaker) and sophisticated Ring security camera integrated into one single device.
The device captures live videos, recognises faces, plays music or videos, and delivers a beer across the home.
It can recognise the faces of people and analyse them until it figures out if it's a family member or an outsider.