Kulbhushan Jadhav Case: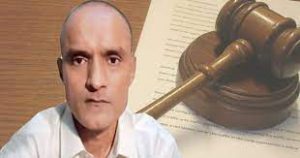 Pakistan's Parliament has enacted a law to give Indian death-row prisoner Kulbhushan Jadhav the right to file a review appeal against his conviction by a military court.
The bill was enacted to implement an order of the International Court of Justice (ICJ).
However, India points out that the law has several "shortcomings", and that steps are needed to implement the ICJ's order "in letter and spirit".
Kulbhushan Jadhav Case:
Arrest: A 51-year-old retired Indian Navy officer, Jadhav was sentenced to death by a Pakistani military court on charges of espionage and terrorism in April 2017.
In December 2017, Jadhav's wife and mother were allowed to meet him across a glass partition, with India contesting Pakistan's claim that this was consular access at ICJ.
Denial of Consular Access: India approached the ICJ against Pakistan for denial of consular access (Vienna Convention) to Jadhav and challenging the death sentence.
ICJ Ruling: In 2019, the ICJ ruled that Pakistan was obliged under international laws to provide by means of its own choosing "effective review and reconsideration" of Jadhav's conviction.
Pakistan's Response: In the wake of the ICJ order, the Pakistan government had promulgated a special ordinance to allow Jadhav to file a review.
Pakistan's Parliament has passed the International Court of Justice (Review and Reconsideration) Bill, 2021 aimed to fulfill the obligation under the verdict of the ICJ.
India believes the Bill reiterates a 2019 ordinance passed by Pakistan, without creating a machinery to facilitate an effective review and reconsideration in Kulbhushan Jadhav's case.
Extraordinary Power to Municipal Court: It invites municipal courts in Pakistan to decide whether or not any prejudice has been caused to Jadhav on account of the failure to provide consular access.
This is clearly a breach of the basic tenet, that municipal courts cannot be the arbiter of whether a State has fulfilled its obligations under international law.
It further invites a municipal court to sit in appeal.