Physics Nobel Prize 2021: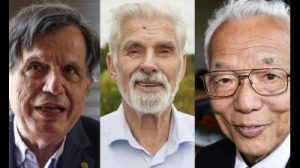 U.S.-Japanese scientist Syukuro Manabe, Klaus Hasselmann of Germany and Giorgio Parisi of Italy won the Nobel Physics Prize for climate models and the understanding of physical systems.
Manabe, 90, and Dr. Hasselmann, 89, share one half of the 10 million kronor ($1.1 million) prize for their research on climate models, while Dr. Parisi, 73, won the other half for his work on the interplay of disorder and fluctuations in physical systems.
This is the first time climate scientists have been awarded the Physics Nobel.
The IPCC had won the Peace Nobel in 2007, an acknowledgement of its efforts in creating awareness for the fight against climate change, while a Chemistry Nobel to Paul Crutzen in 1995, for his work on the ozone layer, is considered the only other time someone from atmospheric sciences has won this honour.