Athidhi Portal : Kerala Govt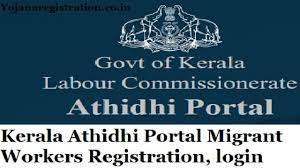 The Kerala government is set to launch the 'Athidhi Portal', which aims to expedite the registration process for migrant workers in the state.
In light of recent incidents involving sexual crimes against children allegedly carried out by migrant workers, the government is taking measures to enhance the registration of "guest workers."
The exploitation of unregistered migrants by contractors and the lack of social security
The portal will introduce a unique identification system and facilitate the registration of workers by contractors, employers, and individual workers themselves.
The goal is to ensure comprehensive registration and provide social security for all migrant workers.