Badhe Chalo Campaign: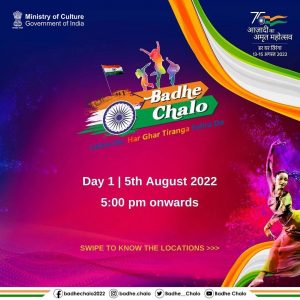 Ministry of Culture has launched the 'Badhe Chalo Campaing', with the aim of connecting with youth of India and infuse a deep sense of patriotism among them.
It seeks to 'create youth centric activation' for sizeable outreach of Azadi ka Amrit Mahotsav.
Campaign has been designed to involve the youth of India, by encouraging them to come forward celebrate 75 years of India's independence.
Azadi Ka Amrit Mahotsav:
Union Government had launched the Azadi ka Amrit Mahotsav initiative to commemorate and celebrate the 75 years of progressive India as well as glorious history of Indian culture, achievements and its people.
Ministry of culture is promoting art and cultural heritage in India.
It has started several initiatives as a part of 'Azadi Ka Amrit Mahotsav'.
Through the 'Jan Bhagidari' initiative, ministry also aims to support the 'Har Ghar Tiranga' movement, to encourage people to hoist a Tiranga in their homes during August 13th– 15th, 2022.
Badhe Chalo Campaign:
The campaign aims to connect and bring the youth and people from all parts of India to one platform.
Badhe Chalo Campaign will feature flash dances, where dancers will perform on "Youth Anthem".
This anthem has been written and composed on the theme of 'Badhe Chalo'.
The Anthem encourages people to come forward and hoist Tiranga in their homes. This activation will feature Flash Dances that are happening across 75 cities, at prime location across India.
Ministry also aims to proliferate the message and spirit of Amrit Mahotsav, through these flash dances.
Badhe Chalo Campaign is being held from August 5-August 10, 2022, across 10 cities every day.
Grand Finale of the campaign will be held at Talkatora Stadium in New Delhi, on August 12, 2022.