World's Biggest Underwater Neutrino Telescope: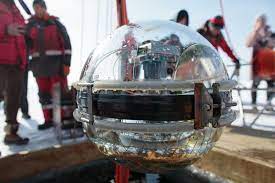 Russian scientists launched one of the world's biggest underwater neutrino telescopes called the Baikal-GVD (Gigaton Volume Detector) in the waters of Lake Baikail, the world's deepest lake situated in Siberia.
The construction of this telescope, which started in 2016, is motivated by the mission to study in detail the elusive fundamental particles called neutrinos and to possibly determine their sources.
The Baikal-GVD is one of the three largest neutrino detectors in the world along with the IceCube at the South Pole and ANTARES in the Mediterranean Sea.
Lake Baikal:
Lake Baikal is a rift lake located in southern Siberia, Russia.
Lake Baikal is the largest freshwater lake by volume in the world, containing 22 to 23% of the world's fresh surface water.
With a maximum depth of 1,642 m (5,387 ft), Baikal is the world's deepest lake.
It is the world's oldest lake at 25–30 million years.
It is the seventh-largest lake in the world by surface area.
Lake Baikal formed as an ancient rift valley and has a long, crescent shape.
The region to the east of Lake Baikal is referred to as Transbaikalia or as the Transbaikal, and the loosely defined region around the lake itself is sometimes known as Baikalia.
UNESCO declared Lake Baikal a World Heritage Site in 1996.