Baihetan Dam: World's Second Biggest Hydropower Dam: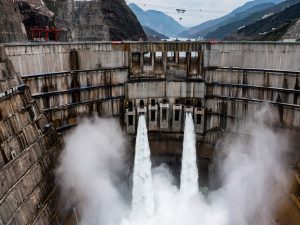 China has put into operation the Baihetan Dam, world's Second Biggest Hydropower Dam.
The Three Gorges Dam is the largest hydropower dam in the world and is also along China's Yangtze River.
It began operations in 2003.
It is on the Jinsha River, a tributary of the Yangtze (the longest river in Asia).
It has been built with a total installed capacity of 16,000 megawatts.
It will eventually be able to generate enough electricity each day once to meet the power needs of 5,00,000 people for an entire year.
It is part of Chinese efforts to curb surging fossil fuel demand by building more hydropower capacity.
This comes at a time when dams have fallen out of favor in other countries due to environmental complaints (such as flooding farmland and disruption of the ecology of rivers, threatening fish and other species).
China's pledge in 2020 to reach carbon neutrality by 2060 had also added urgency to the construction.