Bal Aadhaar Initiative: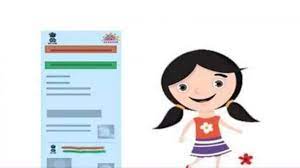 Over 7.9 million children aged up to five were enrolled under the Unique Identification Authority's Bal Aadhaar initiative from April to July.
The Bal Aadhaar, a precursor to a standard Aadhaar, is issued in blue colour to children aged up to five. Upon expiration, a regular Aadhaar is issued.
Bal Aadhaar works as a facilitator in availing several welfare benefits, and also works as a digital photo identity for children.
Biometrics to establish uniqueness for the Bal Aadhar is not collected unlike in the case of Aadhaar.
A facial image of a child is instead taken for enrolment.
Biometric authentication of the parent/guardian and a proof of relationship document, preferably a birth certificate, are collected at the time of enrolment.
CAG criticism of Bal Aadhar: The audit was also critical of UIDAI's move to issue Aadhaar cards to children and newborns without biometrics under an initiative known as Bal Aadhaar.
This needs to be reviewed because anyway after 5 years, a child has to apply for a new regular Aadhar.