Basholi Paintings : GI Tag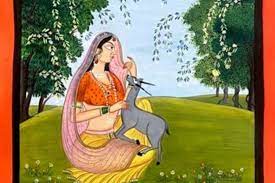 The world-famous Basohli Painting which is popular for its miniature art style from Kathua district of Jammu has obtained the Geographical Indication (GI) Tag.
Basholi paintings originated in the Basholi region of Jammu and Kashmir.
It is a reputed school of miniature paintings known for its vivid, evocative colours, bold lines, and deep-set facial patterns.
It is considered the first school of Pahari paintings
The Basholi painting style flourished during the 17th and 18th centuries under the patronage of local rulers and wealthy merchants.
It has peculiar characteristics, they have perfect geometrical patterns, bright colours and glossy enamel.
Colours used: Ochre yellow, brown, and green grounds predominating.
The figures in the paintings are shown clad in rich costumes, stylised faces and large bulging eyes lent unique individuality to these paintings.
Themes: The portraits of local rulers, Radha-Krishna, and Madhava-Malati love themes and themes from the Bhagavata Purana.
These are painted on paper, cloth, or wood using natural pigments and dyes.