Surangam System: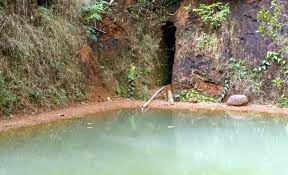 The Karez System of Afghanistan is in threat whereas a similar system named Surangam in South India is thriving.
Surangams resemble the karez System both in structure and spread.
The surangam or suranga is usually found in northern Kerala and southern Karnataka.
Surangam is basically a tunnel dug through a laterite hillock from the periphery of which water and moisture seeps out.
Surangams are similar to Qanats which once existed in Mesopotamia and Babylon around 700 Before Common Era (BCE). By 714 BCE, this technology had spread to Egypt, Persia and India.
Qanats are underground tunnel systems that bring infiltrated groundwater, surface water, or spring water to the earth's surface using only gravitational force.
This system has been very effectively used for domestic and agriculture purposes in dry areas of northern Malabar.
Some people believe the surangam is indigenous and a likely origin of the suranga system refers to 18 Karhada Brahmin families that had been moved to the Kasargod area from modern-day Maharashtra in the 17th century under duress.
Karez System:
The karez system is a legacy of its Persian cultural moorings.
It has suffered extensive damage in 43 years of war and stares at an uncertain future under the Taliban's second regime.
Karez is a water harnessing technology in which groundwater is brought to the surface by a tunnel.
In this system, no mechanical pump or lift is used.
Gravity alone brings the water from the underground source.
The technology originated in Persia/Iran and was widely used during the medieval period.