Pakistan received the Geographical Indication (GI) tag for its Basmati rice under its Geographical Indications Act 2020: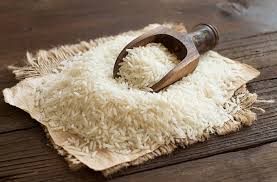 Pakistan is fighting a case in the European Union (EU) against India's move to get Basmati Rice as its product.
India-Pakistan on Basmati Rice:
The issue of protecting Basmati rice as a product of Pakistan came to the forefront after India submitted an application to the European Union (EU) claiming sole ownership of the commodity in September 2019.
India also claimed that the region producing basmati is a part of northern India, below the foothills of the Himalayas forming part of the Indo-Gangetic plain.
The Indian claim to the EU was challenged in December 2019 and the main argument by Pakistan was that Basmati rice was a joint product of India and Pakistan.
International laws require that before applying for registration of any product in the international market it has to be protected under the geographical indication laws of that country.
Pakistan enacted the Geographical Indications (Registration and Protection) Act in March 2020, which gives it the right to oppose Indian application for registration of Basmati rice exclusive rights.
Significance of Pakistan's GI tag for its Basmati:
A GI tag would strengthen Pakistan's case in the EU.
Pakistan exported 5,00,000-7,00,000 tonnes of Basmati rice annually to different parts of the world out of which 2,00,000 tonnes to 2,50,000 tonnes is being shipped to EU countries.
Effect on India:
Basmati rice was a joint heritage of India and Pakistan and Pakistan is as entitled to secure its Basmati rice trade as India.
However, Pakistan securing the GI tag for its basmati rice would, in no way, affect India's Basmati exports.
Since Basmati rice fetches higher prices in the international markets, India had attempted to block Pakistan's trade in the EU by declaring that its Basmati was the geographically original one.
GI tag for Basmati Rice in India:
India is a producer of premium Basmati and it has been grown from time immemorial in the Indo-Gangetic Plains (IGP) area of India and 18 districts of Pakistan's Punjab.
It had been a tough battle for the country to protect Basmati's name from the encroachment of various nations which all came out with their own versions of Basmati.
Agricultural and Processed Food Products Export Development Authority (APEDA) got GI tag for the region located in IGP below the foothills of the Himalayas, spread across seven states (Himachal Pradesh, Jammu and Kashmir, Punjab, Haryana, Uttarakhand, Western Uttar Pradesh (26 districts) and Delhi) in May 2010.