Bhashini Mission: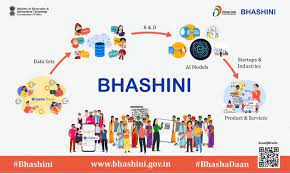 Union minister for electronics and information technology recently said that Mission Bhashini's capabilities have been integrated with the Unified Payments Interface (UPI) to make digital payments through the UPI 123 Pay available in more than 20 local Indian languages.
Bhashini Mission is a local language translation mission that aims to break the barrier between various Indian tongues by using available technology.
BHASHINI4 aims to build a National Public Digital Platform for languages.
This government platform aims to make Artificial Intelligence and Natural Language Processing (NLP) resources available in the public domain to be used by — Indian MSMEs, startups an and individual innovators.
This will help developers to offer all Indians easy access to the internet and digital services in their native languages.
This online platform also has a separate 'Bhasadaan' section which allows individuals to contribute to multiple crowdsourcing initiatives and it is also accessible via respective Android and iOS apps.
UPI 123 Pay is an instant payment system which will allow users to make UPI transactions without an internet connection.