Sievierodonetsk : Russia-Ukraine War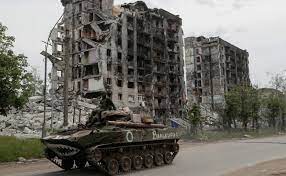 More than a 100 days after Russia began its invasion of Ukraine, it is the strategic eastern city of Sievierodonetsk that remains the focus of intense fighting in the battle's current phase.
Located nearly 140 km south of the Russian border, Sievierodonetsk is one of the largest cities of the Donbas region.
It is located near the left bank of the Siverskyi Donets river, and has a population of over a lakh.
Administratively, Sievierodonetsk falls under Ukraine's Luhansk oblast (province).
It is a big industrial hub known for chemical works and machine-building factories.
If the city of Sievierodonetsk falls, then it will allow Russia to control the entire Luhansk region.