BrahMos: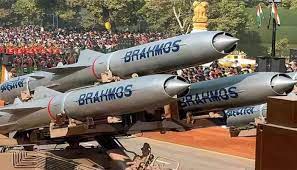 A Court of Inquiry (Col) of the Indian Air Force (IAF) into the accidental firing of a BrahMos supersonic cruise missile in March 2022, which landed in Pakistan, found that deviation from standard operating procedures (SOP) by three officers led to the incident. Services of the officers have been terminated with immediate effect, the IAF said.
The missile landed 124 km inside Pakistan, following which the IAF ordered a CoI headed by an Air Vice-Marshal, a two-star officer, to investigate the incident.
A day after the incident, the Pakistan military said the supersonic surface-to-surface missile flying at three times the speed of sound at 40,000 feet ended up 124 km inside Pakistan, damaging some civilian property.
BrahMos is a joint venture between the Defence Research and Development Organisation (DRDO) and Russia-based NPO Mashinostroyeniya and the missile derives its name from the Brahmaputra and Moskva rivers.