Sandhayak: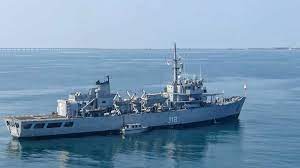 'Sandhayak', the first of the four Survey Vessels (Large) project being built for the Indian Navy, was launched in Kolkata on December 05, 2021.
These Vessels have been designed and developed by Defence Public Sector Undertaking, Garden Reach Shipbuilders and Engineers (GRSE) Limited, which is among the leading warship building companies in India.
These survey ships are capable of full scale coastal & deep-water hydrographic survey of Ports & Harbour approaches and determination of navigational channels & routes.
These ships are also capable of undertaking survey of maritime limits and collection of Oceanographic & Geographical data for Defence applications, thus boosting the maritime capabilities of the country.
These ships are propelled by two Marine Diesel Engines combined with Fixed Pitch Propellers and fitted with Bow & Stern Thrusters for manoeuvring at low speeds during surveys.