New Frog Species: Minervarya Pentali: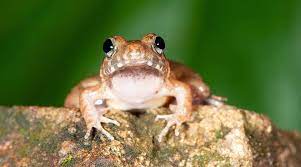 A new frog species was discovered in the Western Ghats and named after former DU Vice-Chancellor and plant geneticist Deepak Pental.
The new frog species named Minervarya Pentali belongs to the family of Dicroglossidae.
The family Dicroglossidae comprises 202 species of semiaquatic frogs distributed by the tropical and subtropical regions of Africa and Asia and Papua New Guinea.
The family contains large-sized (e.g., genus Hoplobatrachus) and dwarf species, with a total length about 30 mm (e.g., genus Nannophrys).
It was discovered from the Western Ghats biodiversity hotspot, extending along the southwest coast of the Indian Peninsula.
This new species is endemic to the southern Western Ghats.
This species is also among the smallest known Minervarya (genus) frogs.