Central Information Commission (CIC):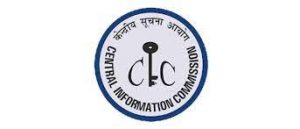 The Supreme Court has directed the Central government to place on record the latest information on the appointment of Information Commissioners, vacancies and pendency of cases in the Central Information Commission (CIC).
A plea has sought directions to the government authorities for implementing the top court's directions in the 2019 judgment.
The apex court had passed a slew of directions to the Central and State governments to fill vacancies across Central and State Information Commissions in a transparent and timely manner.
The court had given three months to the Centre to fill the vacancies that existed in the CIC.
Central Information Commission:
Established by the Central Government in 2005, under the provisions of the Right to Information Act (2005).
The Commission consists of a Chief Information Commissioner and not more than ten Information Commissioners.
They are appointed by the President on the recommendation of a committee consisting of the Prime Minister as Chairperson, the leader of the single largest Opposition party in the Lok Sabha and a Union Cabinet Minister nominated by the Prime Minister.
The Chief Information Commissioner and an Information Commissioner shall hold office for such term as prescribed by the Central Government or until they attain the age of 65 years, whichever is earlier.
They are not eligible for reappointment.