World Rhino Day: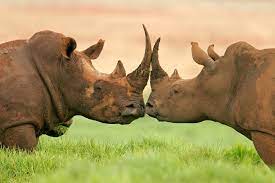 World Rhino Day is observed on 22th September to spread awareness for all five species of rhino and work being done to save them.
It was first announced by the World Wildlife Fund (WWF) – South Africa in 2010. The species of rhinoceros are on the verge of extinction due to persistent poaching and habitat loss over several decades.
There are five species of rhino – white and black rhinos in Africa, and the greater one-horned, Javan and Sumatran rhino species in Asia.
IUCN Red List Status:
White Rhino: Near Threatened.
Black Rhino: Critically endangered.
Greater One Horned: Vulnerable.
Javan: Critically Endangered
Sumatran Rhino: Critically Endangered
Theme 2021: Keep the five Alive.
Objectives: Strengthening protection, Expanding the distribution range, Research and monitoring, Adequate and sustained funding.