The Vande Bharat Mission (VBM):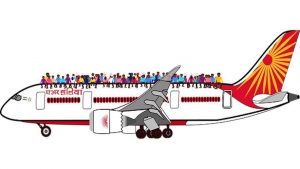 The Vande Bharat Mission (VBM), which started repatriating Indians stranded abroad due to COVID-19 and the resultant lockdowns since May 7, 2020, has turned out to be one of the largest evacuations of civilians by a country.
Into the middle of Phase 10, the VBM has surpassed the large-scale airlift of 1,10,000 people in 1990 at the onset of the Gulf War.
Till now, the Air India (AI) Group has operated 11,523 inbound flights to carry 18,19,734 passengers and 11,528 outbound flights with 13,68,457 passengers.
The national carrier, which carried out the bulk of air transfers under the mission, was supported by its budget carrier Air India Express.
The current VBM Phase 10 has international and domestic schedules operating till October 31.
Air India Express (AIE) used its B-737-800 fleet to lift agricultural produce, mainly fruits, and vegetables, to West Asian countries, Singapore and Kuala Lumpur.
"Transport bubbles" or "air travel arrangements", temporary arrangements between two countries aimed at restarting commercial passenger services when regular international flights are suspended as a result of the pandemic, are in place.