Centre For Science And Environment (CSE) Report On Pollution: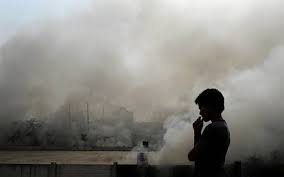 The Centre for Science and Environment (CSE) reported that the levels of PM 2.5, worsened in 43 out of 99 cities whose winter air was compared for two years, 2020 and 2019.
PM 2.5 refers to fine particulate matter smaller than 2.5 micrometers in diameter. It causes respiratory problems and also reduces visibility.
It is an endocrine disruptor that can affect insulin secretion and insulin sensitivity, thus contributing to diabetes.
CSE is a public interest research and advocacy organization based in New Delhi. It researches into, lobbies for, and communicates the urgency of development that is both sustainable and equitable.
Findings:
The cities with the worst pollution spikes in 2020 over 2019 include Gurugram, Lucknow, Jaipur, Visakhapatnam, Agra, Navi Mumbai, and Jodhpur. Kolkata is the only megacity in this group.
When ranked from the most to the least polluted cities, 23 of the most polluted cities are from north India.
Ghaziabad is the most polluted city in the northern belt.
Best Performers:
Only 19 registered "substantial improvement" in PM 2.5 levels, one of these was Chennai.
There are only four cities (Satna, Mysuru, Vijaypura, and Chikkamagaluru) that have met the national 24-hour standard (60 μg/m3) during the winter season.
Satna and Maihar in Madhya Pradesh, and Mysuru in Karnataka, are the cleanest cities in the country.