Krivak Stealth Frigates: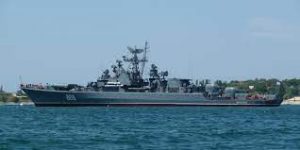 The Vice-Chief of the Naval Staff has inaugurated the construction of the second frigate of the Krivak or Talwar class.
The construction of the first ship was laid in January, 2021. It would be delivered in 2026 and the second ship after six months.
The Krivak class stealth ships are being built with technology transfer from Russia by Goa Shipyard Ltd. (GSL) under 'Make in India'. Engines for the ships are supplied by Ukraine.
In October 2016, India and Russia signed an Inter-Governmental Agreement (IGA) for four Krivak or Talwar stealth frigates.
The first two frigates will be built in Yantar Shipyard, in Kaliningrad, Russia. The following two will be built in GSL.
The new Krivak frigates will have the same engines and armament configuration as Yantar's last three frigates – INS Teg, Tarkash and Trikand.
These will be armed with BrahMos anti-ship and land attack missiles
They are primarily used to accomplish a wide variety of naval missions such as finding and eliminating enemy submarines and large surface ships.
Existing Frigates:
The navy already operates six Krivak III frigates. The first three joined the fleet between June 2003 and April 2004, followed by another three between April 2012 and June 2013. With the current contract, the navy will operate 10 Krivak frigates.