Bal Gangadhar Tilak Birth Anniversary: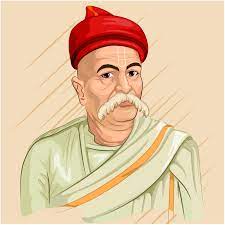 The Prime Minister of India has paid tributes to Bal Gangadhar Tilak on his Jayanti on 23rd July,2023.
Bal Gangadhar Tilak, born on 23rd July 1856, was a freedom fighter, lawyer, and educationist known as Lokmanya Tilak.
Founder of the Deccan Education Society in 1884, he also established the Fergusson College in 1885.
Tilak emphasized the need for self-rule or swarajya and popularized the slogan "Swaraj is my birthright and I shall have it!"
Tilak joined the Indian National Congress in 1890 and played a significant role in the Surat Split in 1907, advocating complete independence or swarajya.
He propagated the Swadeshi and Boycott Movement to promote Indian self-reliance.
Tilak founded the All-India Home Rule League in April 1916, aiming for Hindu-Muslim unity through the Lucknow Pact in 1916.
He was Known for his newspapers Kesari (Marathi) and Mahratta (English) and authored books like Gita Rhasya and Arctic Home of the Vedas.
Bal Gangadhar Tilak passed away on 1st August 1920, leaving behind a significant contribution to India's freedom movement.