Rabindranath Tagore Birth Anniversary: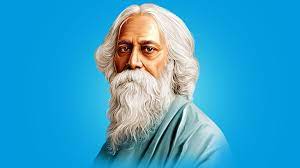 Prime Minister recently paid tributes to Rabindranath Tagore on his birth anniversary.
Rabindranath Tagore was a world-renowned poet, litterateur, philosopher and Asia's first Nobel laureate.
He was born in Kolkata on May 7, 1861.
He was the son of Debendranath Tagore, a prominent philosopher and religious reformer.
He was popularly known as Bard of Bengal, and people used to call him Gurudev.
He introduced new prose and verse forms and the use of colloquial language into Bengali literature, thereby freeing it from traditional models based on classical Sanskrit.
He was highly influential in introducing Indian culture to the West and vice versa.
In 1913 he became the first non-European to receive the Nobel Prize for Literature.
He was also an influential artist and musician. He wrote around 2230 songs and painted 3000 paintings. His songs are known as Rabindra Sangeet.
Rabindranath Tagore wrote India's national anthem, Jana Gana Mana. He also wrote Amar Sonar Bangla, the national anthem for Bangla The Sri Lankan national anthem was inspired by his work.
He was awarded a knighthood in 1915, but he repudiated it in 1919 as a protest against the Amritsar (Jallianwalla Bagh) Massacre.
Viswa Bharti University, which was known as Shantiniketan founded by Rabindranath Tagore.
Tagore's most notable work of poetry is Gitanjali: Song Offerings, for which he received the Nobel Prize in Literature in 1913.
Other notable poetry publications include Sonar Tari and Manasi.