Chandrayaan III : Integrated With The GSLV Mark III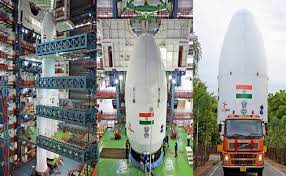 Chandrayaan III spacecraft was integrated with the GSLV Mark III launch vehicle recently. The launch is planned between 12-19th July 2023.
Chandrayaan-3 is the successor to the Chandrayaan-2 mission.
Launch Vehicle Mark-III (LVM3).
Launched from Satish Dhawan Space Centre (SDSC), Sriharikota, Andhra Pradesh.
It consists of an indigenous Lander module (LM), a Propulsion module (PM) and a Rover.
Lander: a spacecraft that descends towards and comes to rest on, the surface of an astronomical body.
Propulsion module: a box-like structure, mounted with a large solar panel on one side and a large cylinder on top.
Rover: a small vehicle that can move over rough ground, often used on the surface of other planets, sometimes controlled from the earth.
The Lander and the Rover have scientific payloads to carry out experiments on the lunar surface.
There will not be any orbiters like Chandrayaan 2 in it. (UPSC CSE: CHANDRAYAAN-2)
Objectives of Chandrayaan-3 mission:-

To demonstrate a Safe and Soft Landing on Lunar Surface
To demonstrate Rover roving on the moon and
To conduct in-situ scientific experiments.
GSLV-Mk III:
It is also known as the Launch Vehicle Mark 3 (LVM3).
It is a three-stage vehicle with two solid motor strap-ons, a liquid propellant core stage and a cryogenic stage.
It is the heaviest and the shortest among India's operational launch vehicles.
Weighs: 641 tonnes, which is equal to the weight of five fully loaded passenger planes.
Capacity: GSLV can take 10,000-kg satellites to lower earth orbits.