Brahmos Missile : Philippine Army And India Negotiation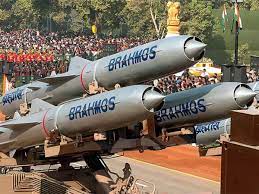 The Philippine Army has started negotiations with India's BrahMos Corporation to acquire batteries of the BrahMos supersonic anti-ship cruise missile.
Brahmos Missile is a supersonic cruise missile.
It is a joint venture between the Defence Research and Development Organisation (DRDO) of India and NPOM of Russia.
It is named after the rivers Brahmaputra and Moskva.
It is a two-stage missile with a solid propellant engine in the first stage and a liquid ramjet in the second.
The system has been designed with two variants for Anti-Ship and Land-Attack roles.
Brahmos is one of the fastest cruise missiles currently operationally deployed with the speed of Mach 2.8,which is nearly 3 times more than the speed of sound.
It has a launch weight of 2,200-3,000 kg.
It operates on the "Fire and Forgets" principle, adopting varieties of flights on its way to the target.
BrahMos is equipped with stealth technology designed to make it less visible to radar and other detection methods.
It has an inertial navigation system (INS) for use against ship targets, and an INS/Global Positioning System for use against land targets.