Chhatrapati Shivaji Maharaj's Legendary Wagh Nakh: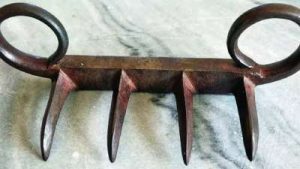 Maharashtra's Cultural Affairs Minister recently signed a memorandum of understanding (MoU) with the Victoria and Albert Museum in London to bring back Chhatrapati Shivaji Maharaj's legendary wagh nakh (tiger claw) to the state.
Chhatrapati Shivaji Maharaj was the founder of the Maratha Empire in western India.
He was born on February 19, 1630,to Shahaji Bhosle and Jijabai in the fort of Shivneri, near the city of Junnar in the Pune district, Maharashtra.
Shivaji carved out an enclave from the declining Adilshahi sultanate of Bijapur. It eventually became the genesis of the Maratha Empire.
After establishing his rule, Shivaji implemented a competent and progressive administration with the help of a disciplined military and a well-established administrative set-up.
He was known as the Father of the Indian Navy.
Shivaji was the first to realise the importance of having a naval force, and therefore he strategically established a navy and forts at the coastline to defend the Konkan side of Maharashtra.
He was called the 'Mountain Rat' and was widely known for his guerrilla warfare He was called so because of his awareness of geography of his land and guerrilla tactics like raiding, ambushing, and surprise attacks on his enemies.
He was a secular ruler who was very accommodating of all religions. He had numerous Muslim soldiers in his army.