Child Labour And Forced Labour In India: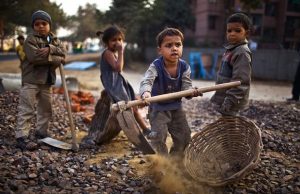 A recent study has raised the issue of ambiguity about definitions of child labour and forced labour in India, especially for sugarcane producing states of Bihar, Karnataka, Maharashtra, Punjab, and Uttar Pradesh.
The study was commissioned by the United Nations Development Programme (UNDP) and The Coca-Cola Company.
Findings from the Study:
Authorities discounted underage child labour as "children helping parents in the field".
Similarly, confusion was about the advance payment to migrant workers, and associated risks of forced or bonded labour.
Most of the interventions in the sugarcane sector, either by government authorities or by the Corporate Social
The responsibility (CSR) arm of companies, were focused just on "improving farming techniques to ensure an increase in cane productivity".
Child Labour and Forced Labour :
The term "child labour" is often defined as work that deprives children of their childhood, their potential and their dignity, and that is harmful to physical and mental development.
Forced labour is defined as "all work or service which is exacted from any person under the menace of any penalty and for which the said person has not offered himself voluntarily".