Children And Digital Dumpsites: WHO Report: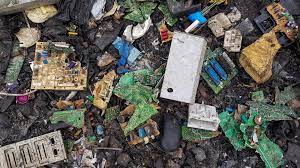 The World Health Organization (WHO) in its recent report "Children and Digital Dumpsites" has underlined the risk that children working in informal processing are facing due to discarded electronic devices or e-waste.
There are as many as 18 million children (as young as five years) and about 12.9 million women work at these e-waste dumpsites every year.
The e-waste from high-income countries is dumped in the middle- or low-income countries for processing every year.
About the E-waste:
E-Waste is short for Electronic-Waste.
It is the term used to describe old, end-of-life or discarded electronic appliances.
It majorly includes electronic equipment, completely or in part discarded as waste by the consumer or bulk consumer as well as rejects from manufacturing, refurbishment and repair processes.
It contains over 1,000 precious metals and other substances like gold, copper, lead, mercury, cadmium, chromium, polybrominated biphenyls and polycyclic aromatic hydrocarbons.
Volume of E-waste:
Global Scenario:
According to the Global E-waste Statistics Partnership, the volume of e-waste generated is surging rapidly across the globe.
About 53.6 million tonnes of e-waste were generated in 2019.
Only 17.4% of this e-waste was processed informal recycling facilities. The rest of it was dumped in low- or middle-income countries for illegal processing by informal workers.
This is because of the rise in the number of smartphones and computers.
Indian Scenario:
According to the Central Pollution Control Board (CPCB), India generated more than 10 lakh tonnes of e-waste in 2019-20, an increase from 7 lakh tonnes in 2017-18. Against this, the e-waste dismantling capacity has not been increased from 7.82 lakh tonnes since 2017-18.
In 2018, the Ministry of Environment had told the tribunal that 95% of e-waste in India is recycled by the informal sector and scrap dealers unscientifically dispose of it by burning or dissolving it in acids.