Yudh Abhyas: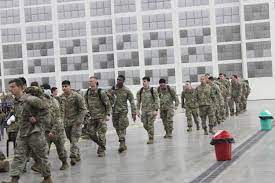 18th edition of India-US joint military training exercise Yudh Abhyas will begin on November 16, 2022 in Auli, Uttrakhand.
The 15-day-long exercise will focus on high altitude and extremely cold climate warfare.
Exercise Yudh Abhyas is conducted annually between India and US with the aim of exchanging best practices, Tactics, Techniques and Procedures between the Armies of the two nations.
The previous edition of the exercise was conducted at Joint Base Elmendorf Richardson, Alaska (USA) in October 2021.
The schedule will include all operations related to peacekeeping and peace enforcement.
The troops from both nations will work together to achieve common objectives.
The joint exercise will also focus on Humanitarian Assistance and Disaster Relief (HADR) operations.
US Army soldiers of 2nd Brigade of the 11th Airborne Division and Indian Army soldiers from the Assam Regiment will be participating in the exercise.