Deep Ocean Mission: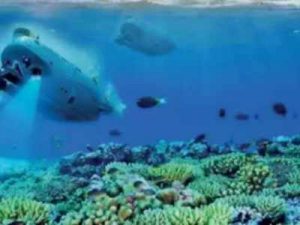 The Union Cabinet has approved the long-pending Deep Ocean Mission.
The mission proposes to explore the deep ocean similar to the space exploration started by ISRO about 35 years ago.
The focus of the mission will be on deep-sea mining, ocean climate change advisory services, underwater vehicles and underwater robotics-related technologies.
The mission is expected to cost ₹4,077 crore over the next five years.
The Ministry of Earth Sciences (MoES) will be the nodal Ministry implementing this multi-institutional mission.
Key Components of the mission:
A manned submersible will be developed to carry three people to a depth of 6,000 metres in the ocean with a suite of scientific sensors and tools.
An Integrated Mining System will be developed for mining polymetallic nodules at those depths in the central Indian Ocean.
Development of Ocean Climate Change Advisory Services.
Development of a component for searching deep-sea flora and fauna, including microbes, and studying ways to sustainably utilise them.
The next component is to explore and identify potential sources of hydrothermal minerals that are sources of precious metals formed from the earth's crust along the Indian Ocean mid-oceanic ridges.
It has a component for studying and preparing detailed engineering design for offshore Ocean Thermal Energy Conversion (OTEC) powered desalination plants.
The final component is aimed at grooming experts in the field of ocean biology and engineering. This component aims to translate research into industrial applications and product development through on-site business incubator facilities.