China-South Asian Initiative: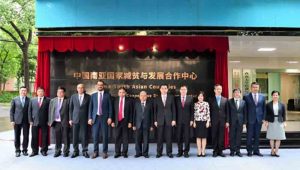 Bangladesh has invited India to join the China-led South Asian initiative for Covid-19 vaccines and poverty alleviation.
It includes the creation of the China-South Asian Countries Emergency Supplies Reserve, and a Poverty Alleviation and Cooperative Development Centre set up in China.
About China-South Asian Initiative:
Members: China, Afghanistan, Bangladesh, Nepal, Pakistan and Sri Lanka.
India, Bhutan and the Maldives are the other SAARC countries that are not part of this initiative.
Intended Vision: China has different kinds of strategic, maritime, political and ideological interests with different South
Asian nations so it is increasing its engagements with each country on equal footing to counterbalance India.
India's Stand: Given continuing tensions over Chinese PLA aggression at the Line of Actual Control in Ladakh, India's stand is that other bilateral relations cannot move ahead without a resolution of the boundary stand-off.
Associated Issues: This initiative seems to be China 's strategy to contain and undermine India's role in South Asia. This can be reflected in the following arguments:
Minus-India Initiative: Combinations of all SAARC member countries (other than India, Bhutan and Maldives) led some experts to suggest this was meant to be a "Minus India" initiative.
Diluting India's Role in South Asia: This initiative is one of China's attempts to make inroads into South Asia.
The Chinese push to this regional grouping comes also at a time when India has been reluctant to revive SAARC, turning its focus more on yet another regional bloc–BIMSTEC.
Countering Quad: The China-led bloc could be its plan to create what some call a northern Himalayan Quad aimed at countering the US-led Quad of which India is an active member.