China's New Sea-Road-Rail Link To Indian Ocean: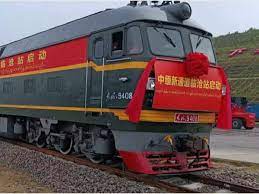 A new sea-road-rail link providing Chengdu (China) with access to the Indian Ocean via Yangon (Myanmar) was opened.
The trade corridor is China's first to link western China with the Indian Ocean.
About New Trade Corridor:
The new trade corridor passage connects the logistics lines of Singapore, Myanmar and China, and is currently the most convenient land and sea channel linking the Indian Ocean with southwest China.
China also has plans to develop another port in Kyaukphyu in the Rakhine state, Myanmar including a proposed railway line from Yunnan (China) directly to the port, but the progress there has been stalled by unrest in Myanmar.
China plans to develop this region in Myanmar as a 'border economic cooperation zone' under the Belt and Road Initiative.
It is expected to become the lifeblood of international trade for China, while providing a source of income for Myanmar.
This trade corridor is another direct Chinese outlet to the Indian ocean.
The first one being at the Gwadar port in Pakistan.
This trade route is also China's alternative to the "Malacca Dilemma".
Malacca Dilemma is a word coined in 2003, by the then Chinese President Hu Jintao.
This refers to China's fear of a maritime blockade at the Straits of Malacca. Since most of China's oil imports pass through the Straits of Malacca, a maritime blockade here could paralyze China's economy.
About Gwadar Port:
Gwadar is being developed as part of the CPEC to the far western Xinjiang region.
Gwadar has long been touted as the site for a Chinese base suitable for People's Liberation Army Navy (PLAN) operations.
China pursues a "strategic strongpoint" concept whereby strategically sited foreign ports containing terminals and commercial zones operated by Chinese firms can be used by its military.
Such "strongpoints" offer the potential for China to form a network of supply, logistics and intelligence hubs along the perimeter of the Indian Ocean.
This is referred to as the String of Pearls theory.