Cirrus Clouds : New Study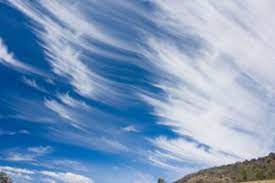 A new study has found a significant statistical correlation between thunderstorms occurring around the world and the formation of wispy cirrus clouds, which might increase global warming.
Cirrus Clouds are delicate, feathery clouds that are made mostly of ice crystals.
They are thin and wispy in appearance, often appearing as delicate, high-altitude filaments or strands.
Their wispy shape comes from wind currents, which twist and spread the ice crystals into strands.
They are usually white or have a light grey colour. In the daytime, they are whiter than any other cloud in the sky.
They are commonly known as "mare's tails" because they are shaped like the tail of a horse.
Typically found at heights greater than 20,000 feet (6,000 metres), cirrus clouds are composed of ice crystals that originate from the freezing of supercooled water droplets.
They generally occur in fair weather and point in the direction of air movement at their elevation.